ReFresh Body, Mind & Soul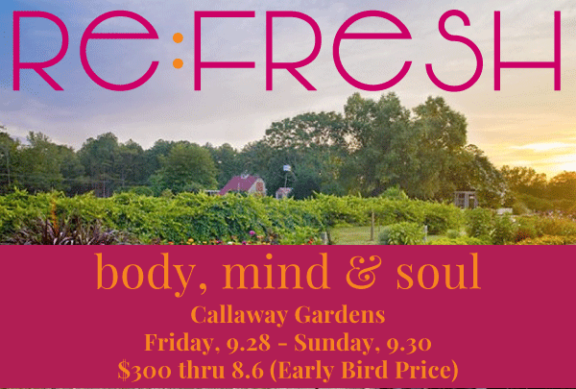 Led by ReFresh Spiritual Psychologists Helen Mitchell, CMP, MA, the
weekend's workshops
will focus on applying your body, mind, and soul to every facet of your life, work, and relationships. A bevy of
spiritual subject experts
will provide an entire life plan and toolbox for refreshing your life.  Life can be complicated and our mission at ReFresh is to support your personal journey, as you take the steps to lay out a proven roadmap for living your best life! We invite you to schedule an important date with YOURSELF. If you manage many facets of life and need some time to ReFresh, join us for the perfect weekend to slow down, take in nature, and dedicate time to set intentions to achieve your heartfelt dreams.
Highlights:
JOY FILLED experience – Loving, Sacred and Mindful Experience
Women with Like Purpose and Desires
Proven Results Speakers and Teachers
YOU Time – Spa time if you choose to add
Nature – opportunity to CONNECT
Photo play – YOUR Best You in photos
NEW! ART – the opportunity to express through intuitive art
NEW! ReFRESH Essential Oil Blend – YES – We will gift the new BLEND of essential oils that represent THE ReFRESH experience. You will want to take this blend home! This is our essential oil blend designed for ReFRESH.
Reserve your spot today!
Location: Callaway Gardens
Date: September 28, 2018
Time: -
Helen I. Mitchell, MA
Register Now for Body, Mind & Soul! September 28 - 30th at Callaway Gardens. Dismiss
UP