My 3 Learnings from Love Beyond Limits Program at the CHOPRA Center I Hope Will Resonate With YOU!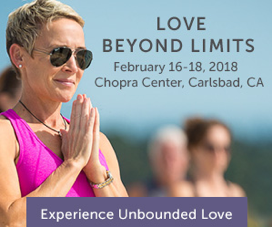 Hello, ReFRESH community!  I will be thinking about a new name for the wonderful beings who have said YES to their own journey with other like SOULS!  Thank you for making your journey with ReFRESH.  If you are reading this blog and you have not made that commitment, we are here to support and be of service to you thru our offerings.
So, let's get to the heart of the matter!  I am still out in beautiful Carlsbad, California at the Omni Resort/La Costa which is the home to the CHOPRA Center.  The Chopra Center is the brainchild of Deepak Chopra and his team.  Many years ago, he began this center to offer Ayurveda training, offerings and events to serve the planet.  Today it continues to grow and offer a full range of Ayurveda spa treatments and a host of products and services to support the beautiful events and offerings.
Over the next month, I hope to be able to share with you the new learnings and my personal journey and experience while at the center.  It was transformative, growth-inducing, magical, mystical, synchronistic, totally mind-blowing, heart opening, expansive, familiar, loving, kind, easy, peaceful, calm, challenging, mindful, new, enlightening, physical, musical, happy, smile filled, supportive, and necessary for my life.
So, in less than a month, I purchased tickets to see Deepak Chopra in Atlanta, then booked myself into a Chopra Program that spoke very loudly to my soul – Love Beyond Limits; began my trio journey with classmates and selected Robert Holden's book Loveability; began falling in love with myself and took the leap and said yes to my SOUL!  So, it was just that simple, booked flights for myself and my husband and was on my way to California to realize my dream of being at a program and on the journey to understand LOVE for myself.
Just before leaving during a call with classmates one of them mentioned something that was said to me every day once I arrived at Chopra, it was "you are all that already", statements like you are perfect and whole just as you are, there is nothing to fix, change or find.  The first time my classmate said the words, I was struck, and I kept repeating them during the flight.  Then I arrived, and everyone continued to sing the same tune.  I also read a blog just before traveling that said that self-help is simply remembering who your Soul already knows.  So, the breadcrumbs to the BIG beautiful Gingerbread house were being laid out for me to follow.  Thanks so much to my beautiful classmates!
So, what I learned, discovered or was so real to me I hope will help you and will resonate with your Soul and speak to you in a supportive way.  For three days, all it was about was LOVE!  As was shared the Beatles knew – "All You Need is Love".  So here we go.  From my heart to yours the 3 learnings!
There is nothing to seek when it comes to LOVE – your essence, your Souls calling is only LOVE!

Meditation and breathing are foundational to making an immediate shift in THE moment and creates space for being.

My/Your Self- Image and the image of others is not who we really are. I am not my self-image.
I am not the image of others.
Love is everything.  It is the beginning and the end, it's our connection to Source and the reason for our existence.  Being in a state of loving is our connection to all others.  Love is the most healing and harmonizing power available to us.  Love heals all.

I hope that one or all these will resonate with you.  I am enthusiastically sharing these blessings and lessons with the hopes that love beyond limits is your daily reality.
I learned so much and over the next ReFRESH events and opportunities, I will be sharing how LOVE is the underpinning for JOY and how and why we will want to connect the dots.
I am gathering all my blessings and lessons for each of YOU!
Until next time, with LOVE
Helen Mitchell, CMP, MA
Refresh, JOY Expert